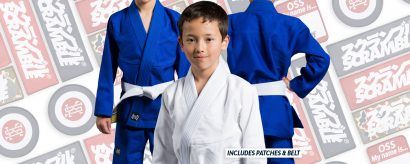 We have now applied our very successful "Standard Issue Semi-Custom" model to our kids gis, giving you a highly affordable and well-priced kids gi that comes free with eight patches to decorate your gi as you see fit.
The patches follow the same design as the adult patches, so your kids are free to decorate their gi with as many (or as few) patches as they want.
The Kids Standard Issue Gi for jiu jitsu / BJJ is made to a high specification and comes with a free white belt appropriate to the size of the gi.
These gis are perfect for kids who are just starting jiu jitsu and looking for a cheap first gi, but also for kids who want a gi for them that is not overly designed or childlike.
Great for cost-conscious parents, too.