After a long day refereeing at the Abu Dhabi Grand Slam in London back in April, I was sat in Nando's drinking a beer and mind-numbingly scrolling through Instagram when I came across a post by Francis Ngannou that caught my eye. He was asking for a volunteer BJJ coach to come to Cameroon for a year to help develop young fighters and give them a route out of poverty. I was close to finishing my physiotherapy degree and was all set to start my first physio job in July, but this sounded far more intriguing than a mundane job in the NHS. I sent an email volunteering myself for the position, without any expectation that I would get a reply. Fast forward three months and I am now sat writing a blog from the rainforests of Cameroon.
It is an understatement to say I was a little nervous arriving in Nsimalen airport in Yaoundé with two suitcases stacked full of kimonos, old jiu-jitsu t-shirts and French books. I had no idea what I was in for and was ready to hand over my fate to the gods. All I knew was that I was being picked up by Francis Ngannou's brother-in-law at the airport. I had no idea where I would be staying or what they had planned for me.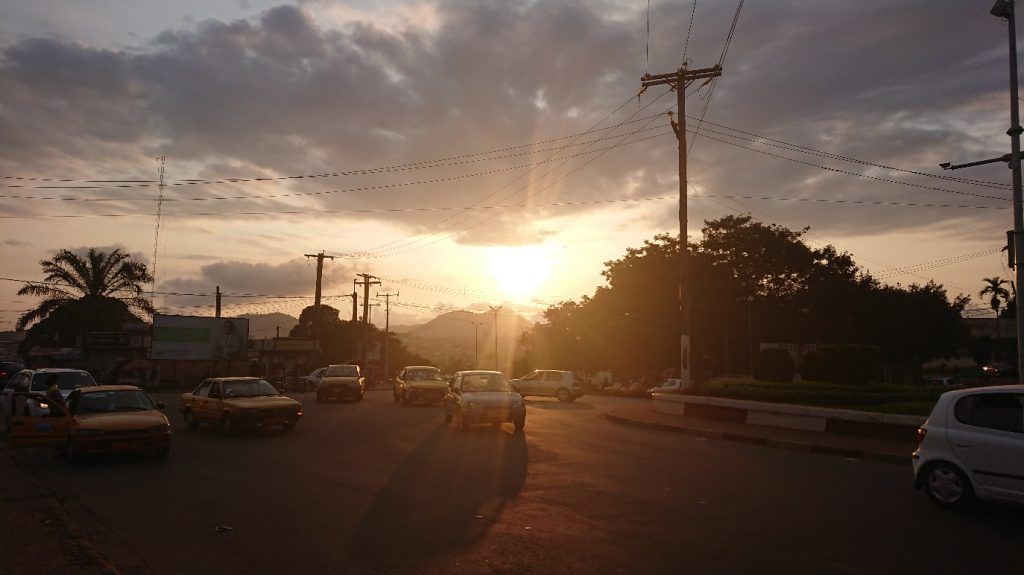 Unsurprisingly, George spotted me easily amongst the throng of Cameroonians spilling into the arrivals lounge. To my surprise he actually spoke reasonable English – at least enough for basic (albeit broken) conversation. Outside the airport we were greeted by Francis' 17-year-old brother Michel, and the three of us bundled into a car for a 40-minute drive to a shady downtown apartment they had booked for me. They dropped me off with my suitcases and bottles of water, and promised to come back to pick me up the following morning.
They next few mornings were spent anxiously waiting to be collected from my apartment, as I had zero money to buy any food for myself. It turns out George had a cosy little shop just down the road from my apartment selling everything from soap to sardines, so most of the time I just hung out there drinking Nescafe and practicing my French. For lunch we would go to George's house, where his wife (Francis' sister) Fanny would cook and I would act as a human climbing frame for their hilarious children.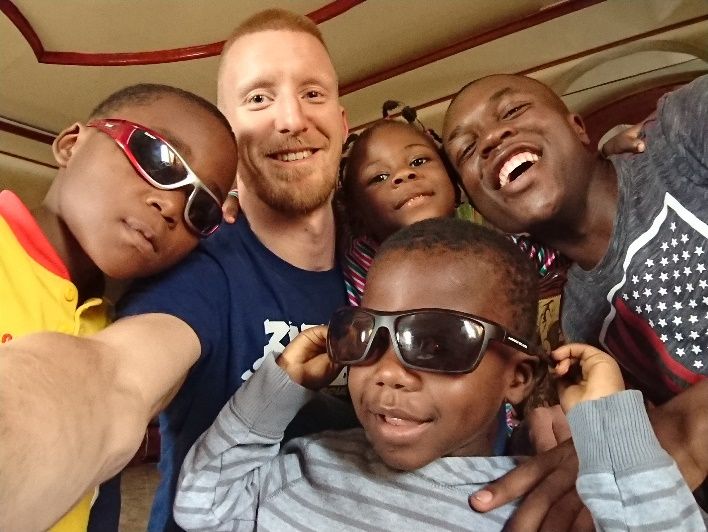 The culinary delights I have experienced so far in Cameroon have included porcupine and rat legs, although I have yet to eat any monkey. Bush meat is a staple food for the people here, and as I am not a fussy eater, I am more than happy to try pretty much anything on offer. That being said, I am drawing the line under eating dog meat – there are two adorable puppies kept in a cage at my new place in the village which I'm told may one day be used for dinner, so I'm making it my mission to train and domesticate them and change their owners mind.
We arrived in Batié a week ago after a six-hour drive through the green countryside. The scenery along the route was beautiful but largely unchanging, but as we reached the village, stunning mountain ranges and rolling green hills emerged through the fog. Batié almost reminds me of a tropical version of the most scenic parts of the Devon countryside where I grew up, with plenty of rain and cloud to match.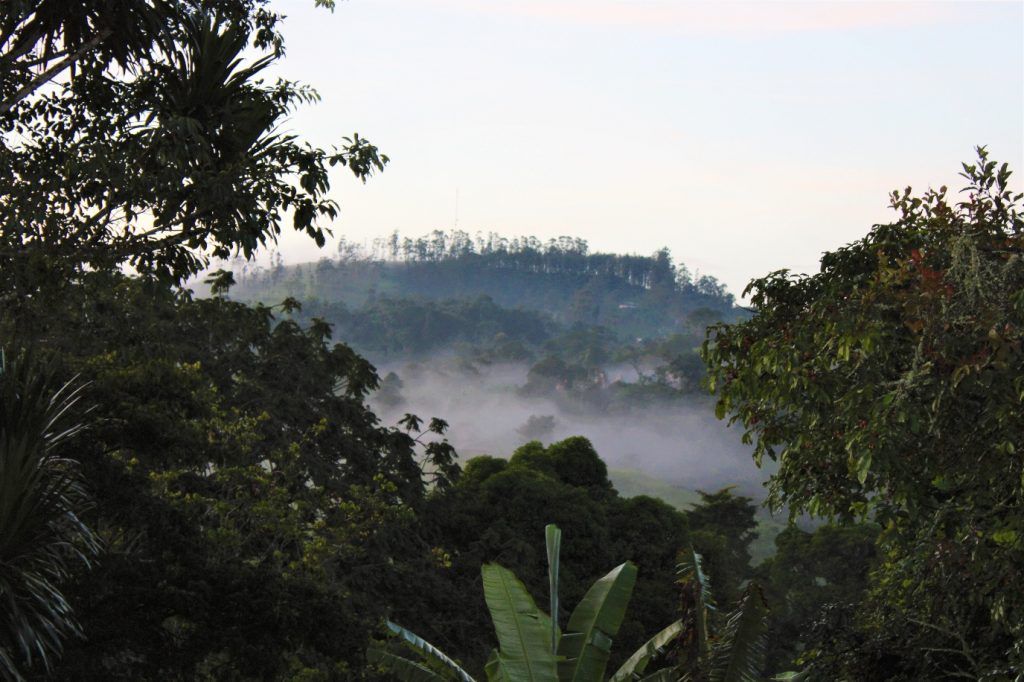 Francis' mother Christine and younger brother Steve greeted us at their house with a warm welcome, providing me with a temporary room in their place while my permanent residence was being constructed; it turns out that the family are building a smart little apartment for me on the upper floor of Francis' aunts house, which should be ready to move into soon!
From Francis' mums place, there are two ways to get to the gym. Option one is to walk down the hill passing through the jungle and the sand-mine where Francis used to work, then up the mountain on the other side. This takes about 30 minutes in dry weather, but it is rarely dry here this time of year. The torrential rains make the muddy mountainside treacherously slippery; my left wrist is in pieces after multiple failed attempts to save myself from falling. I've also tried running the route, but it is impossible to not wipe out, and yesterday I even sank knee-deep in the mud after accidentally stepping on some soft ground.
Option two is to jump on the back of the motorbike up the muddy hill for ten minutes in the opposite direction until reaching the main road, then circle back round in a massive 11km detour. This has been the option of choice most of the time, although I learned the hard way that wearing shorts on the bike is not the smartest decision; we dropped it in the mud yesterday and I burned my leg on the exhaust.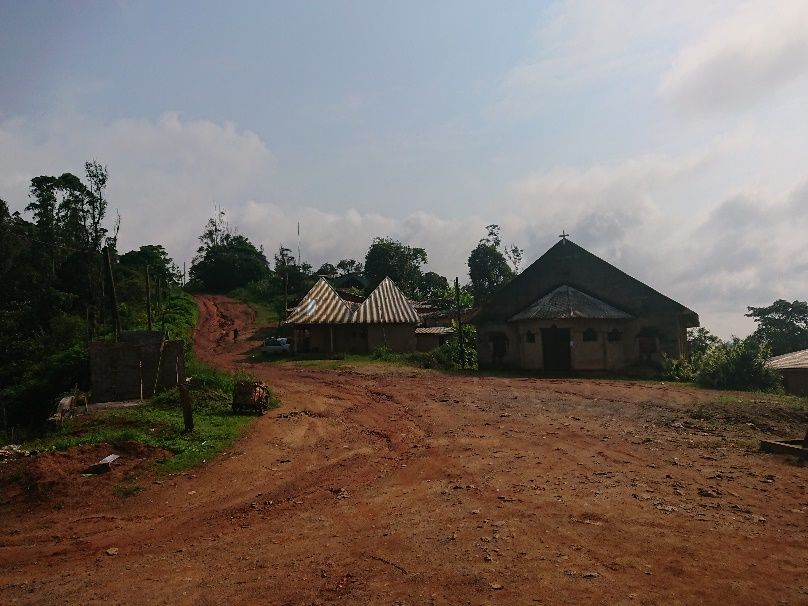 Adjusting to village life has been difficult; between the classes at the Foundation there is a lot of downtime, and with my limited French it is impossible to have a normal conversation with anyone. I underestimated just how exhausting it would be to constantly be racking your brains for the right words to use and concentrating so intensely on every word being said. I have been trying to use my free time wisely to study French, plan classes and design posters for the gym, but over the last few days have managed to contract some sort of jungle sickness and have been totally wiped out between classes. Teaching BJJ in French is actually far easier than trying to hold a normal conversation, as the vocabulary is much more limited. However, I still have plenty of work to do.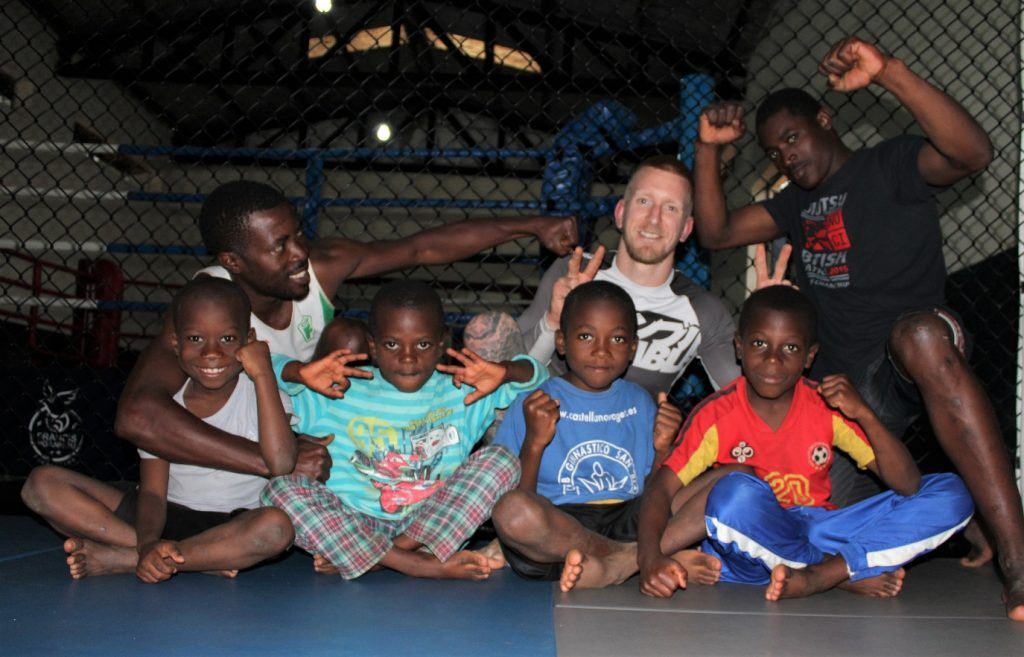 The first few classes at the gym have been great, although with very low numbers. The Foundation opened back in February, and since then the attendance has dropped off significantly due to the lack of coaches and minimal classes on offer. I have drawn up a new timetable with multiple sessions every day, but with houses dotted over miles of hillsides, it is very difficult to reach all the locals and pass on new information. Today we a poster to put around the market and other key points in the village, and once the schools re-open in September they will be the main portal for recruiting new kids. Aside from holding a meeting with the local parents, which we are planning for next week, we are running out of ideas for more ways to raise awareness of the project. If anyone reading this has any suggestions, please comment below or contact me via social media!
I'm sure there are many adventures around the corner, so stay tuned to keep updated on how the project is going!
Oss,
Sam Michael Crook
Instagram: @sammichaelcrook
Facebook: facebook.com/jointmanipulation