Scrambler Emilia took the time to write about the new Standard Issue on her blog, which is now available in female sizes. If you can speak Finnish, check it out here.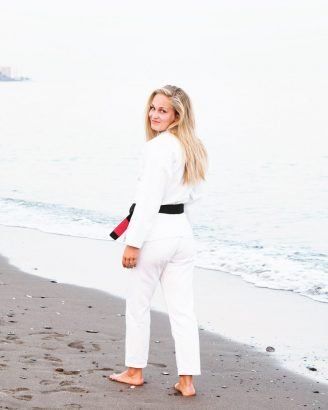 If not, read on to hear Emilia's thoughts on the Standard Issue BJJ gi for women from Scramble.
New Female gi FINALLY!!! I have been waiting for this moment for so long, it is hard to contain my excitement. Scramble has a female cut gi! And it is awesome. The Standard Issue gi in female sizing is in every way perfect for me. The fit, colors, the style, materials, sizing and design (and price!)! It weighs pretty much nothing and takes no space, but is still good quality materials. I mean, I was able to easily pack two gis for a 9 day holiday where I only had my hand luggage with me.
What more could you want from a gi? Maybe super powers. And ability to eat as many donuts as you want without having to go few weight classes up. But apart from those, it is the perfect gi. My first thought when I took the gi out of it's bag was "damn that it soft!". Especially the pants, it feels like you're putting on a cloud of cotton candy. The pants stretch just enough so your range of movement is not limited by anything being too tight, at least the pants. And you not stretching enough is not my or the pants' fault. The cut is nice and low, just above your hips, which for a hobbit like me is the best cut in pants. I personally hate gi pants that come too high, it kind of feels like someone is constantly body triangleing me a bit.
The biggest difference between the female gi's jacket and the unisex/male one is the little nice adjustments in the sides and armpits. It has room for biceps and shoulders (not always a given in female gis!), but still fits nicely without making you look 10kg heavier. The material is soft enough to make you feel like wearing a pyjama, but tough enough to feel like you're wearing an armor that makes you invincible.
Standard Issue gi comes with the patches not attached, so you can put them on as you wish, or wear the gi plain without any logos on. You can get it in white or blue, and it is completely IBJJF legal. Scramble will soon have the new Athlete 4 gi, that will also come in female sizes! It also comes in white and blue AND in three different "strengths", lightweight, midweight and luxury. That means they are different levels of softness, weight and flexibility. Athlete 4 has the same design in both female and normal cut, which is great since I don't really like these all pink super girly and flower-y gis that scream GIRLY, but the cut is still clearly made for female shapes.